Cavadoodles are a hybrid mix between the toy poodle and King Charles Cavalier. Puppies are estimated to weight 10-15 pounds at adult weight.
The King Charles Cavalier Spaniel is a hunting dog with a big heart.
They
attach deeply to their family and love to be a lap dog when not busy
chasing
birds or squirrels!
These 3 girls are scheduled to be future moms; however, they
still have to grow up and pass their health testing.
Estimated Puppy Go Home: 2019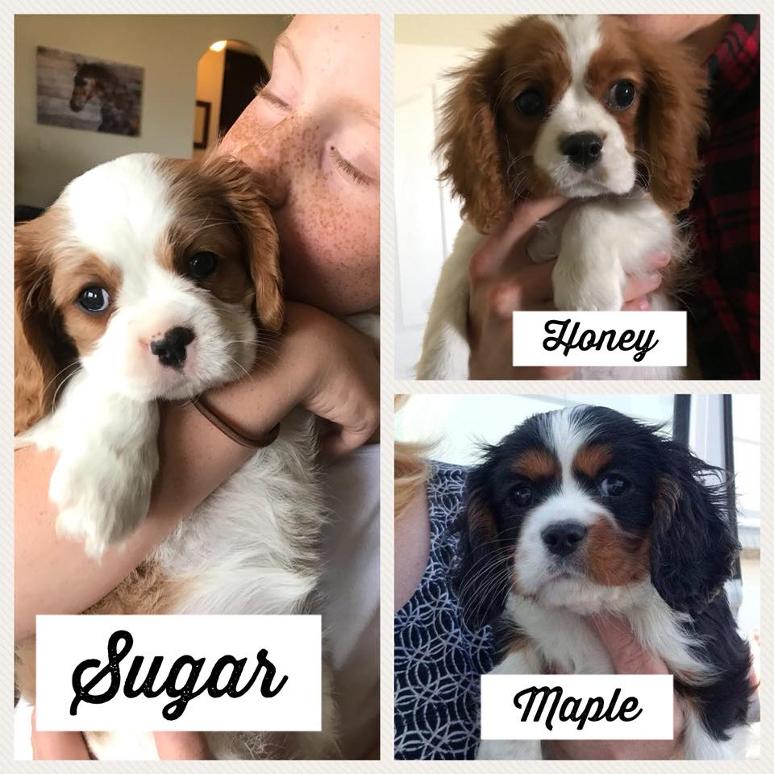 Sugar
F1 Cavadoodles
$3,500.00
1. Lily Grace Service Dogs - Amy Boschma
2. Kelsey Jacobsen
3. Mary Mai
4. Camille Knopp
5. Katherine Louis
6. Naomi Peters
Pay your deposit now (you can only be on 1 cavadoodle list at a time). The deposit is for 500.00;however,paypal charges a 3% fee so that has been added bringing the deposit total to $515.00.
Honey and Auggie
1. 4E Kennels
2. Denise R.
3. Sharon Morris
4. Jill Pendleton
5. Katie Knutson
6. Anthony Ferrera
*Health testing has been completed and Honey has passed OFA hips, elbows, heart and eyes*
Maple
1. 4E Kennels
2. Philip and Paula Newman
3. Christine Gotto
4. Mindy Haskins