Meet Our Team
It takes a team to keep 4E Kennels running. Our main location is nestled an hour outside of Las Vegas, NV. on a 5 acre Doodle ranch where we house most of our adult dogs and have a 1200 sq. ft nursery/educational center for our puppies! We also have a nursery in Las Vegas where Valarie raises litters on our pet companion curriculum. Read more about us below!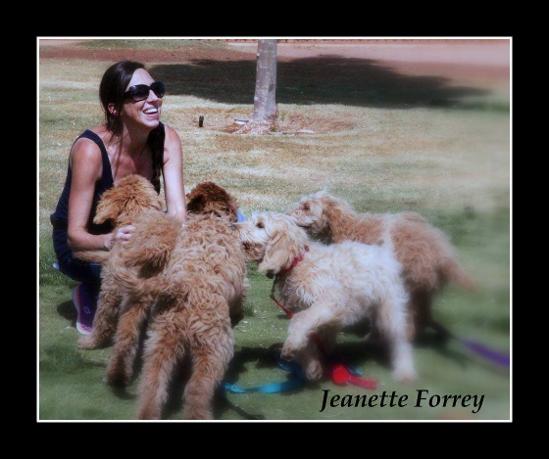 Jeanette Forrey
Owner and Founder of 4E Kennels, AKC CGC Evaluator, Dog Trainer, Puppy Aptitude Test Evaluator, B.A. in Secondary English Education
Founded 4E Kennels in 2011
Read why I started this journey here
I have my BA in English Education, my masters in Curriculum and Instruction and taught for the Clark County School District for 12 years. Children and dogs are not that different. I have loved learning how puppies develop, creating and implementing strategies to promote service dog quality puppies and creating curriculum based on those sensitive developmental needs.
Aside from running 4E Kennels, I am a wife, a step mom of two teenagers (Bria and Dallas) and a mom to my two younger children (Matthew and Jenna). I am blessed to have been able to follow my dreams and do something I love.
Favorite Dogs in the Program: Hannah, Holly and Eloise. Holly and Eloise are a part of our 4E Therapy Dog Team.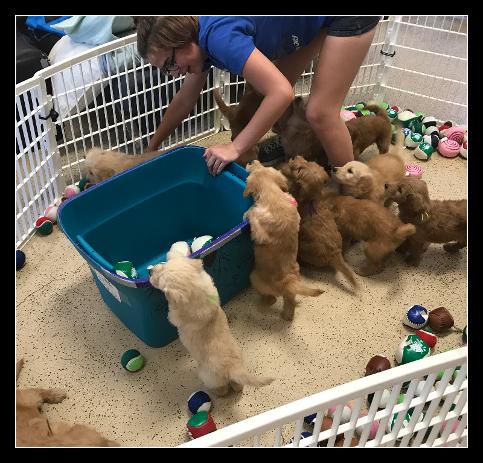 Sam
Nursery Assistant
Sam has been with 4E Kennels for over a year now. Sam can run a nursery shift! Her attention to detail, careful cleaning and ability to see when things need special attention is invaluable. Her extra hands, positive attitude and love of the puppies and moms is exactly what we need!

When not at work, Sam enjoys Netflix, shopping, reading and outdoor adventures!
Favorite Dog in the Program: Audrey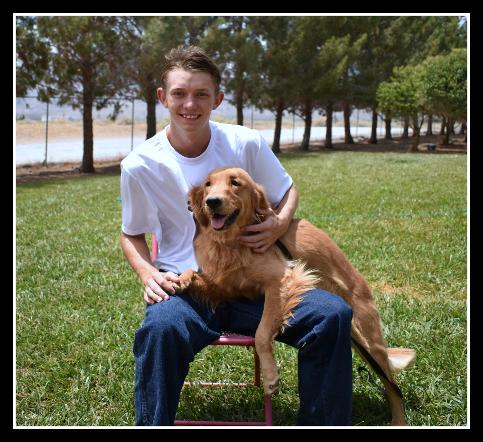 Dallas
Kennel Assistant
Dallas has been a part of 4E Kennels from the beginning. His 18 year old muscles and stamina is what we need! Lol! This boy can whip through kennels in a 115 degree day like it is nothing. Dallas is a senior in high school and works some night and weekends. His help allows employees to also have a day off once in awhile!
Dallas enjoys playing video games and reading! He also loves spending time with family and the dogs.
Favorite Dog in the Program: Was Lainey, but she has retired so his new favorite is Cricket!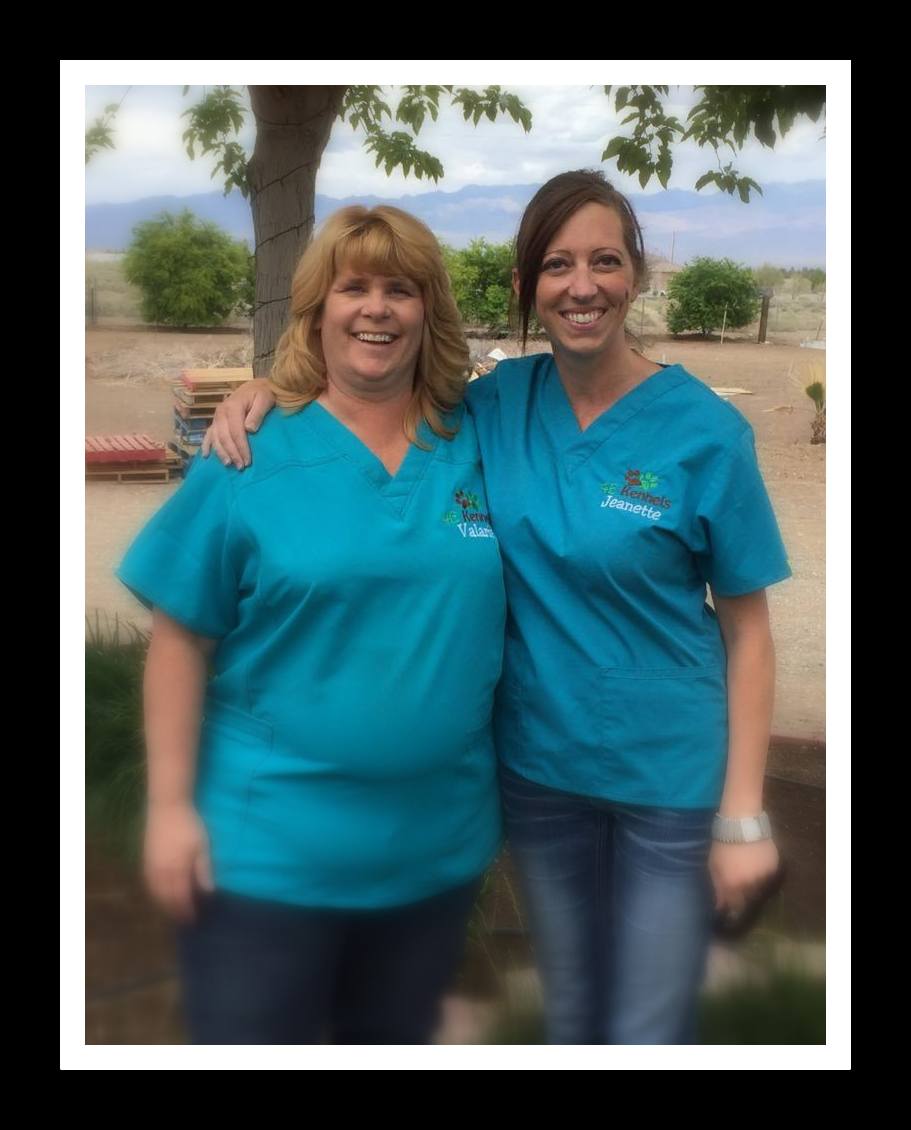 Valarie
Manages the Las Vegas property and is a Puppy Raiser, Puppy Aptitude Test Evaluator, Traveling Puppy Escort Service, Puppy Airline Taxi Service
Joined the 4E Kennels team in 2013
Valarie came into our lives by purchasing a goldendoodle from us (Tank from Hannah and Romeo's Ivy League litter). Valarie then became involved by becoming Emma's Guardian mom. During Emma's first litter (the Casino Litter) Valarie was over all of the time assisting me in raising those pups. She learned our procedures and curriculum and it became apparent that I wanted Valarie to be a part of our team, so in 2013 Valarie came on board as a puppy raiser, raising her first litter in her home (Juliet's Classic Literature litter). One thing led to another and now Valerie is an integral part of our team! Aside from working for 4E Kennels, Valarie is a wife, has 4 children (Corbin, Frankie, Bradley and Brady) and 2 grandchildren (Corbin Jr. and Haylee). Valarie is also the Little League Safety Office/Administrator for Nevada District 2.
Favorite Dog in the Program: Emma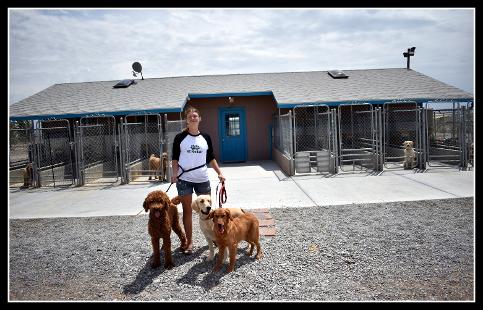 Megan
Adult Facility Manager
Megan joined the 4E Kennels team January 1st, 2017 and has quickly become an invaluable member. Megan also lives on property to be available to her "pack" 24/7.
Megan runs the adult facility and cares for all of our sires and moms on their yearly break. She cleans kennels twice a day, plays and allows the dogs to rotate through stimulating exercises runs (one having a swimming pool) and ensures all of our dogs are of ideal weight and health. Our dogs adore her!
Megan's passion is art and she spends as much free time doing so.
Favorite Dog in the Program: Amelia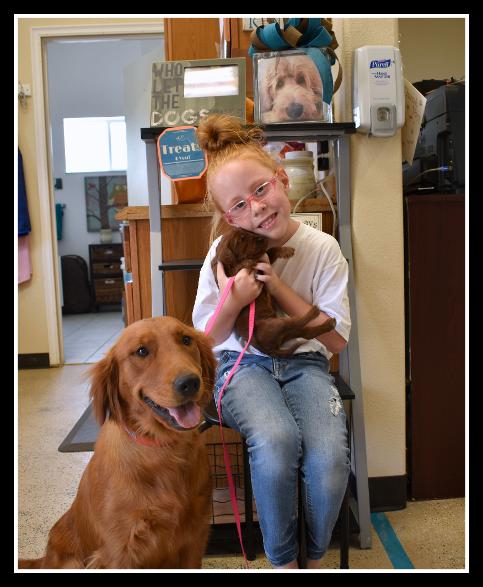 Jenna
Puppy Handler
Jenna has been raised in the 4E Kennel business and has become crucial in helping raise the puppies. She aids in puppy handling and puppy evaluations. Jenna adores the puppies and they her! Her tender heart and love for them is evident in every interaction. Jenna has also raised and trained Eleanor (how many 8 year olds can say that?). Those two are inseparable.
Jenna's Favorite Dog in the program: Eleanor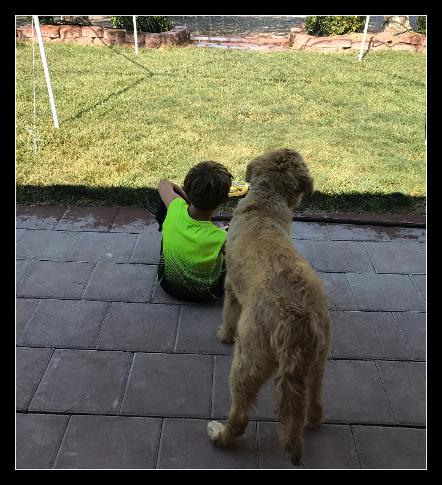 Matthew
Puppy Handler
Matthew is my 11 year old son who helps raise puppies. He can perform the early neurological stimulation exercises, perform the diabetic scent imprinting and puppy massages. He is a gentle-hearted boy who feels deeply and loves working with the newborns.
Favorite Dog in the program: Farm Dog ~ our loyal rescue pup that keeps an eye on everything and everyone.