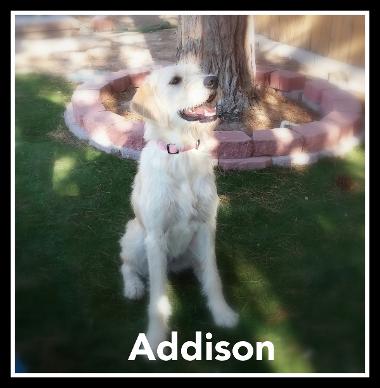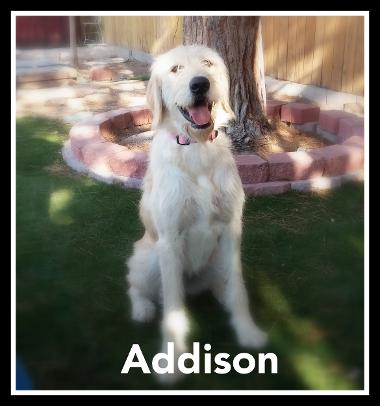 Addison is a very smart athletic girl that is sweet and loving. She enjoys meeting new people and being the talk of the "party". Addison has an amazing drive to please and she posses a happy go lucky disposition. Addison holds her head high and always acts like a lady. She has a beautiful lean build with long legs that make her a show-stopper when she prances. When she sits down, she always crosses her front paws. She loves to play with everyone, but highly prefers hanging out with kids. Don't tell Addison that she is 76 Pounds for this girl thinks she is a lap dog. Addison is a dedicated, loving and focused mother. Addison has had one litter with 4E Kennels and gave us adorable f1b labradoodles! She had 12 puppies and overall, they were such a laid back gentle hearted group. We look forward to her next litter. Addison lives with Valarie, our puppy raiser.
Weight - 65-70 pounds
Eloise
AKC Golden Retriever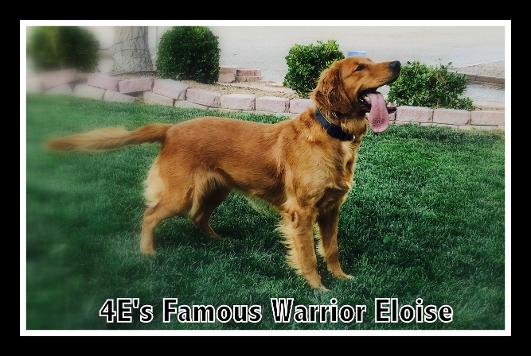 Eloise is a bright, happy, friendly girls that want to please and is eager to learn! Lulu (Eloise) is spirited and a bit mischievous. Lulu (as we call her) loves to fetch her "bird" and is a beautifully built dog. Eloise is a large golden weighing in around 70 pounds. I am particularly fond of her, for I have raised her since she was a young pup. I just could not be happier for the type of dog she has grown into. She is definitely an amazing golden retriever and is also a part of our 4E Kennel therapy dog team. Her focus and workability is top notch. Eloise has had 3 litters for us and has produced several service dogs and therapy dogs. Her pups are outstanding F1 goldendoodles. Her drive and motivation is high and her pups are easy to train, but not always for the faint of heart.
4E's Good Luck Cricket
AKC Golden Retreiver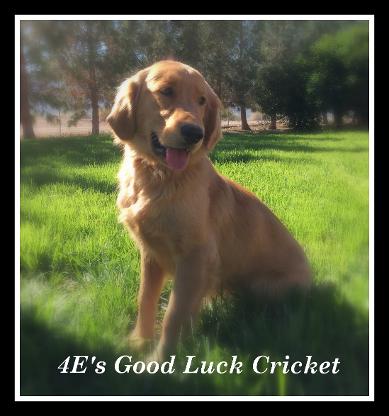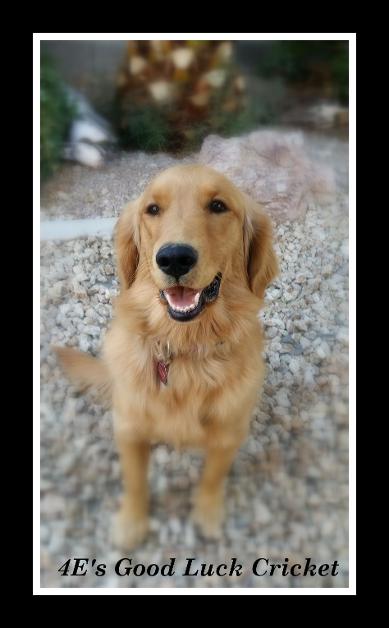 Cricket is a bright girl that loves to please. She is naturally submissive and tender hearted. She loves to play fetch and play in the water. Cricket is a smaller framed golden and is such an amazing mama. There is no other female dog I have that loves being a mom more than she. It is truly is her life calling. She is caught truly cuddling with her puppies all of the time. Her puppies (overall) are laid back, sweet, highly trainable and VERY popular. We are so dang lucky to have this girl in our program.
Weight: 45 pounds
4E's Pam of Archer
Golden Retriever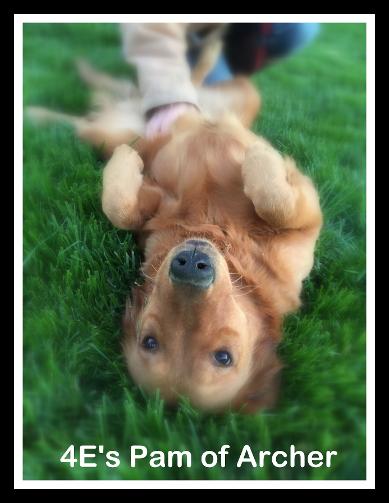 Pam has been with us since she was 8 weeks old! She loves the water, loves to play fetch and loves to please. Her favorite thing is belly rubs and boy she does not want you to stop! Pam is a beautiful red solid female that is bright and eager to please. Pam loves to vocalize (golden retriever speak) to those she really loves. She has attached very deeply to those that care for her and is so dang loyal. She is not a golden that needs everyone's attention, she just wants love from those she loves. Her puppies are bright, eager, highly trainable (she has produced two service dogs and several therapy dogs in her first litter).
Weight: 50 pounds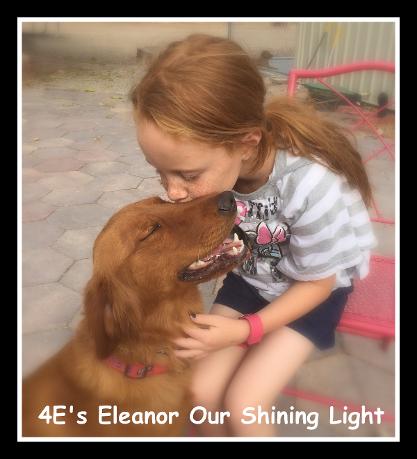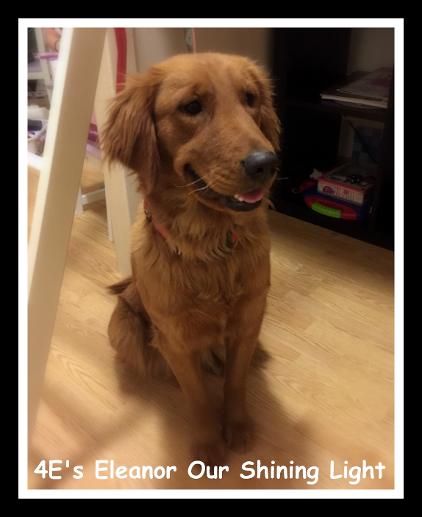 Eleanor is Eloise's younger sister and is so much like her. She is eager, bright, loves to play fetch, is soft mouthed, enjoys car rides and is incredibly athletic. Eleanor is so gentle hearted and sweet. Since the day we brought her home at 8 weeks old, she and Jenna, my 8 year old daughter, have been inseparable. Eleanor puts up with dress-up, bath times, barbie times, etc... Eleanor naturally takes command and listens to Jenna. Eleanor loves just hanging out with her 8 year old girl. Jenna has trained Eleanor by herself and they work as a team (the youngest ever) in our 4E Therapy Dog program. Eleanor does anything Jenna asks of her. Eleanor has had one litter for us and they were a smashing success. Bright, beautiful and sweet!
Weight: 50 pounds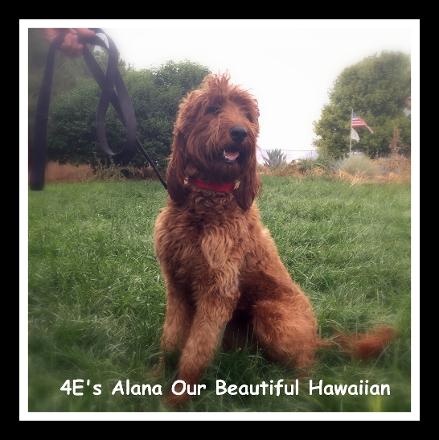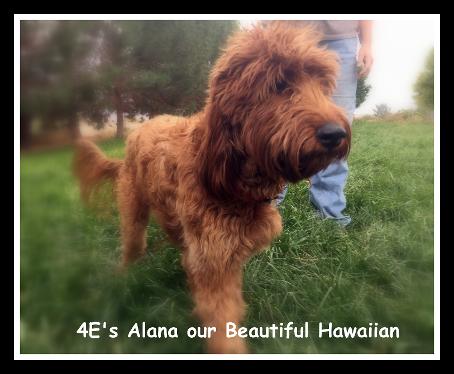 Alana is an F1 Irishdoodle that came from our own program. Rosie and Riley are her parents. She went into a guardian home and became very attached to her guardian mom, who then passed away from cancer. Alana now resides with a new guardian family who she adores. She is very sweet, attaches deeply to her humans, wants to please, is sensitive and loves to do what she was bred for - chase birds!
Alana is tall and lanky and slender. She is athletic and beautiful. Alana offers us our only F1b Irish Goldendoodles. Irishdoodles attach deeply to their owner (s), tend to be more alert and ampy but oh so sweet.
Weight 43 pounds.
Hollis
AKC Golden Retriever
(International Champion Bloodlines)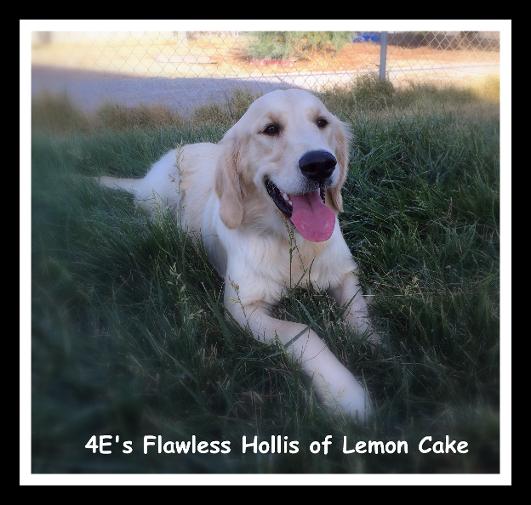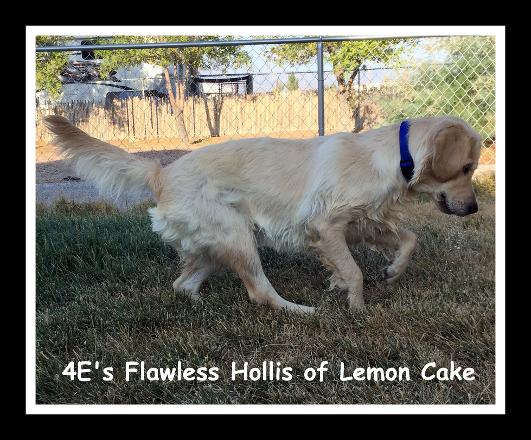 Hollis is bred to be a champion. Her dad, Int.Ch.Lake County Chadwick's Thevenet Dely Amore, is a documented and titled AKC International Champion. Both of his parents are also National Grand Champions. Olaf is a English Creme (imported European bloodlines) and her mom is an American Golden Retriever. We are getting the best of both worlds with this beauty. Hollis's temperament and reliability is representative in her prestigious lines. She is patient, loving, softy mouthed, loves to retrieve, LOVES the water and is a joy to have in our family! She is soft hearted, wants to please and is innately polite. Her big brown eyes and blocky face is stunning - her pictures do not do her justice!
Weight: 70 pounds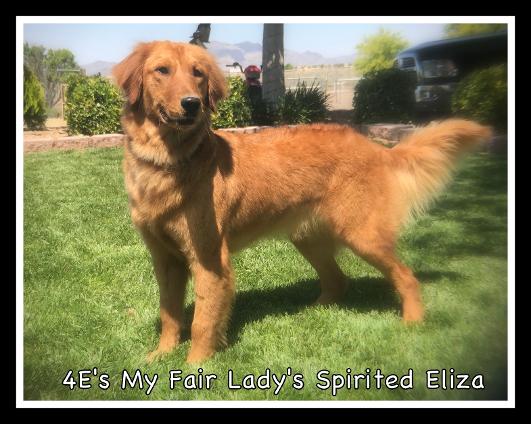 Eliza is incredibly athletic and fast! She loves a good game of fetch and is particularly found of my husband. She will do anything he asks of her. Eliza loves to please and is the "boss" between her and her littermate, Eleanor. Eliza is confident, outgoing and willing to please. Eliza is an excellent mom and even helped raise a litter for us. She did as I asked and trusted that I needed her. What a beauty!
Weight: 48 pounds
Tippi
AKC Fox Red Labrador Retreiver
(Champion bloodlines)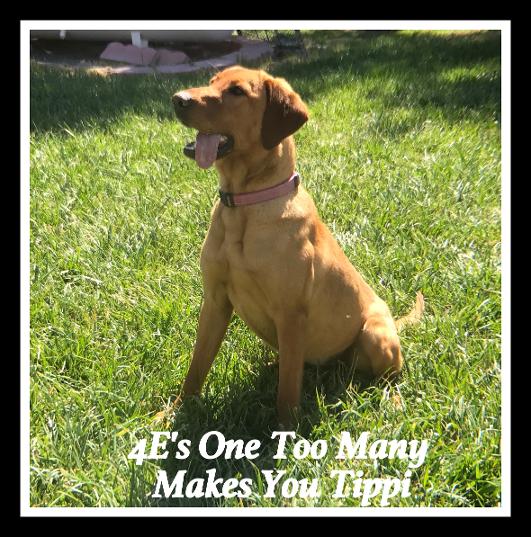 Tippi is a beautifully built lab and larger than life. She is high in her drives to work and please and it takes a great deal of stimulation and exercise to tire this girl out (swimming, fetching and playing). She was bred from champion field trial parents so working is in her genes. She would be a fantastic hunting or agility dog. When blending her lines with the poodle we are taming down the drive to work, but only a bit. Labs, and Tippi is not exception, are confident, assertive and want to work and please. This silly dog will wag her tail so hard against her whelping box and break and open only to fly blood all over. She smiles all though it and we watch in horror! Lol! Lab lovers will love her puppies!
Willow
F1 Goldendoodle
(Bred from Audrey and Riley)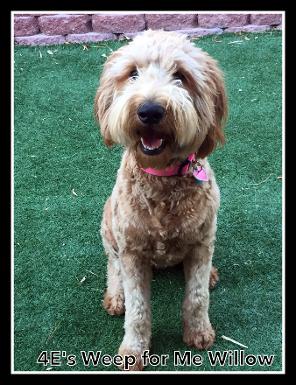 Willow is from our very own litter (Audrey's Actors).
Willow loves to play ball, fetches and puts it where you ask her too. She loves people and seldom stays in a room alone - she finds someone to be close to. She loves the yard, frolics about about watched the hummingbirds with keen interest and loves to chase the pigeons. She is sweet, gentle, quick to learn and "talks" like her mama, Audrey. She loves her best friend, 4E's Harper and shares her toys with ease. Willow has eyes you get lost in and is a great comfort to anyone who isn't feeling well. She takes direction well and is a love. There are 3 adult males in the house who love her too and I finally have a female companion. Willow lives full time with her
guardian
family who loves her very much.
Charlotte
AKC Golden Retreiver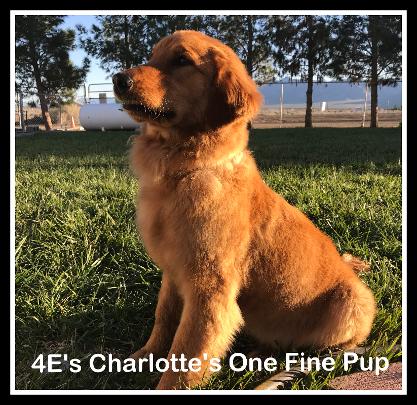 Charlotte is a bright girl that loves a good challenge and thrives on love and attention. She looks deep into our eyes with her bright beautiful eyes just wanting to know what we want from her. She has had one litter with us (Charlotte's Cinco De Mayo litter). She is a great mom and truly loved her puppies. Charlotte is up for a swim, a game of fetch, chasing birds or quieting sleeping at our feet. She is a true asset to our program!
Weight: 50 pounds
Natalie
F1 Standard Goldendoodle (parti lines)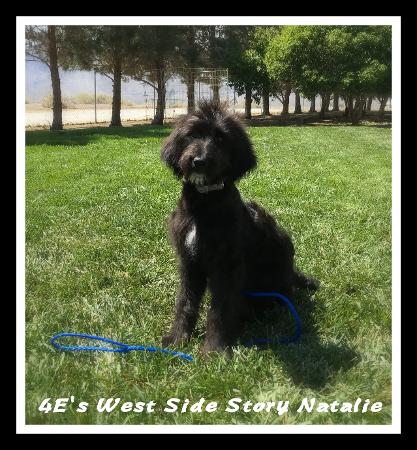 Natalie is a sweet submissive girl who is generally more "serious" than her sister. She has had one litter with us (Natalie's Noodles) that were overall such a sweet laid back litter. Natalie lives with a family full time AND her sister, Norah. While Natalie acts like the better behaved sister, she has a sneakier side to her! Lol! She will hide and wait and POUNCE on her sister! She will also sneak something she should not have and I swear she tries to blame her sister! She was an outstanding mom that was a natural and very loving. We look forward to more amazing pups from Natalie.
Weight 48 pounds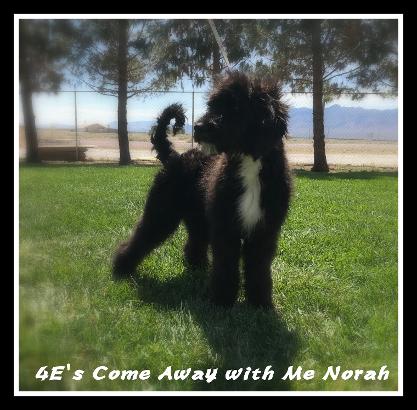 Norah is bouncy and silly! Norah lives with her guardian family and her sister. She is expected to have her first litter in September. Norah loves to get into mischief. She gets so proud of herself when she accomplishes something! While she is not so much the "Naughty Norah"as we first thought, because her sister, Natalie is sneaky and sets her up! Lol! These two girls are full of love, compliant, tolerant and so sweet.
Weight: 45 pounds (same height as Natalie but leaner)
Watson
AKC European Moyen/Klein poodle
World Champion Bloodlines: Grandma is World Champion and Aunt is Jr. World Champion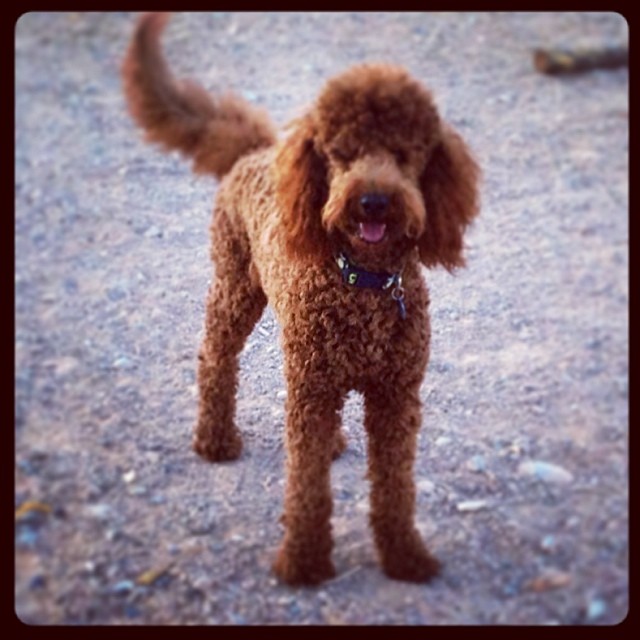 Watson is a silly boy who is very serious about his job at 4E Kennels. He is lower energy and very intelligent. My favorite thing about my little man is that he grunts and groans as soon as I touch him. It is so cute. And even better? MOST of this puppies have the "Watson" grunt! Watson came to us at 4 months old and has been with us for 2 years!
Watson's bloodlines are directly from Finnish, German and Russian lineages. Moyen is the French word for the fourth size of Poodle in France, but the remainder of Europe refers to them as Kleins. Its size falls in between the Miniature and Standard Poodle, but it is not obtained by crossing the two; it is an actual fourth Poodle breed size in Europe and is not a new size. It was imperative to me to get the real moyen/klein poodle that comes from such a prestigious pedigree.
Watson's grandma http://www.severnaya-roza.ru/dogs/lennira won the World Championship last year and his Aunt http://severnaya-roza.ru/dogs/Nataniya won the Junior World. I am so tickled and very lucky to get my hands on one of these rare and exquisite dogs! I have been searching high and low for quite some time. He is a deep red mahogany gorgeous boy and comes from nothing but the best pedigree. He allows 4E Kennels to offer European medium goldendoodles around the weight of 40 pounds! These puppies are rare and special indeed!
Weight: 28 lbs.
Height: 18 inches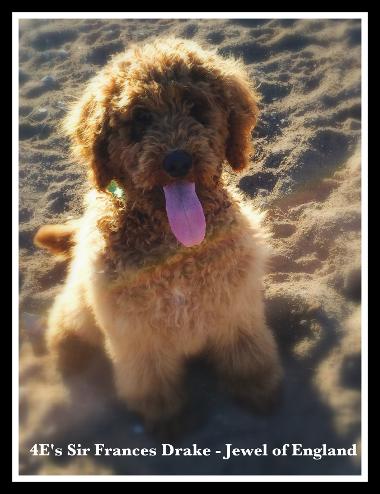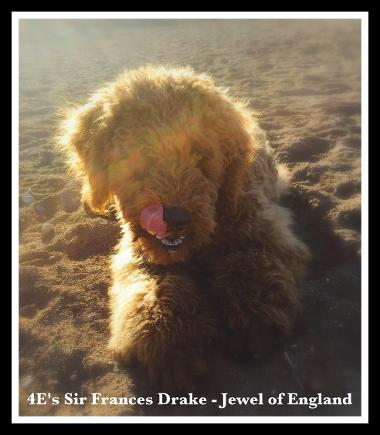 Frankie comes to us from true European Champion bloodlines, just like Watson! What makes him so special is that Gideon is his father and we used Gideon for Merida's Lucky 7 litter. I was able to track down one of Gideon's offspring to add to our own breeding program to carry on that bloodline. We were so amazed at that litter, that getting Frankie was a blessing. Gideon threw a lot of white markings and we are hoping Frankie will do the same. Frankie is by far the silliest happiest poodle I have ever met. He loves meeting new people and getting lots of love. He loves to fetch, play tug of war and just be silly! Frankie just came to us at 6 months old in 2015, so he has yet to undergo his extensive health testing. Once his health testing is complete over the next few months, we can add him to our breeding program. We are so excited and are hoping to use Frankie with Merida's 2015 litter! Frankie, like Watson, will provide 4E Kennels with European Medium doodles. These dogs are rare and beautiful!
Weight: 28 pounds
Height: 18"at the shoulder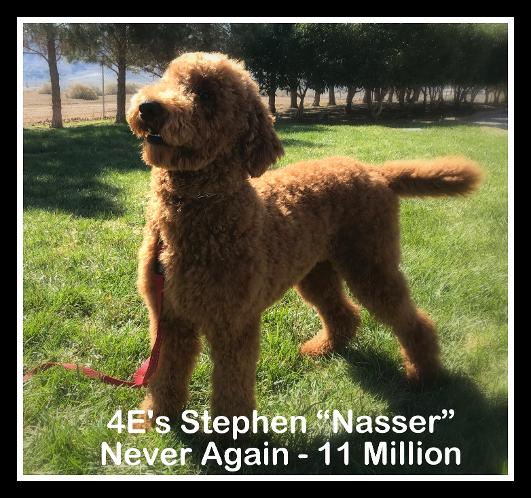 Look at this stunning boy! In our continued effort and passion to produce red doodles, we have added a Nasser to our program. He is an AKC standard poodle (both of his parents carry the red refuse gene). Nasser comes from long lines of health tested champion parents. We are beyond excited to have this special boy in our breeding program. Nasser is named after someone near and dear to me, Stephen Nasser. He is a Holocaust survivor whose book, My Brother's Voice, I taught to my 8th grade students for many years. Our first year, we had shirts made to honor him when he came to visit our school. He was overwhelmed with emotion as we were all wearing 'NEVER AGAIN" shirts. When he arrived and saw us lining a path to the gym in our shirts. He stayed and signed everyone's (I still have mine) and has continued making public appearances in the shirt we gave him. He also sent me a heartfelt thank you card that I will always cherish. The whole experience, including the impact this unit had on my students, to moving a Holocaust Survivor to tears, was the highlight of my 12 year teaching career. Nasser is a large happy go lucky boy that loves his people. He is loyal, incredibly smart and very sweet. He has produced amazing big boned pups for us!
Harper Lee
F1 English Goldendoodle (Parents are Romeo and Juliet)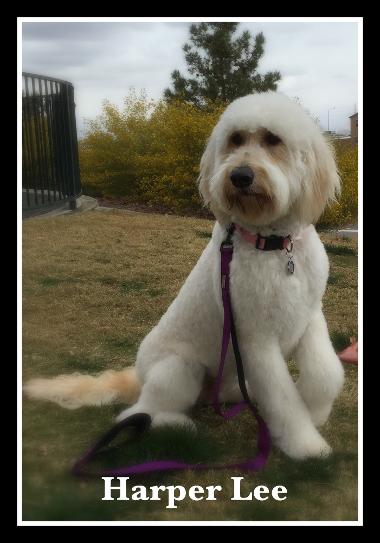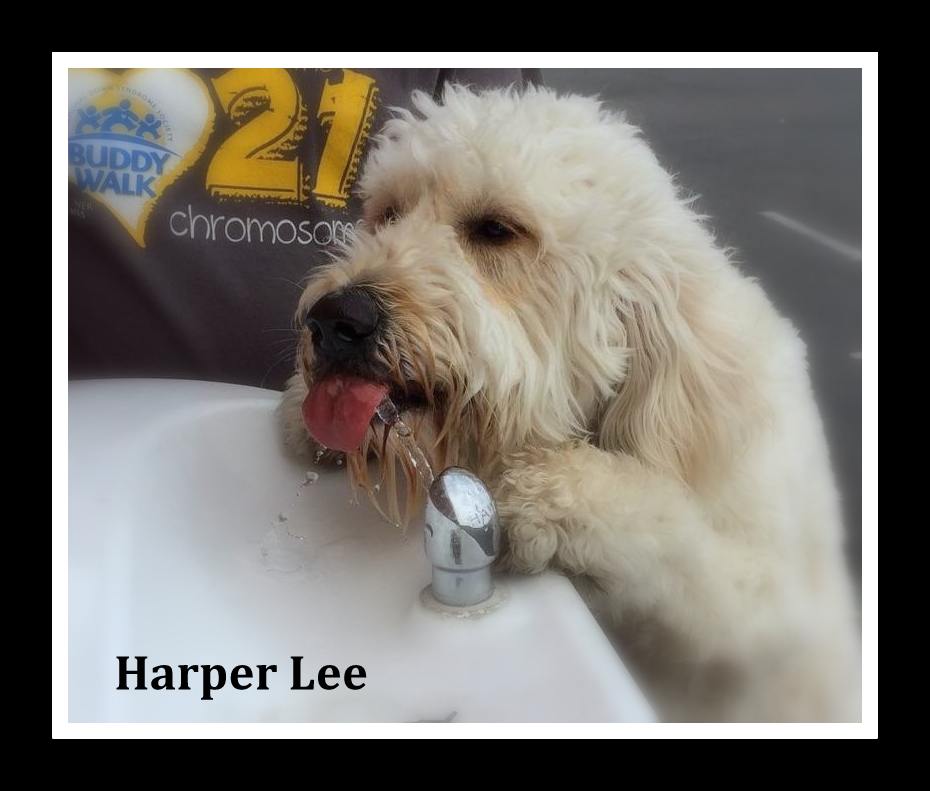 Harper Lee is a stunning snowy white F1 English goldendoodle. Her parents are Romeo and Juliet. Harper takes after her mother. She has very dark eyes that melt a person's heart when she looks at you. Harper is very intelligent, loyal and is great with children. She has gone through basic and advanced training. She is working on getting her Canine Good Citizen certificate. Harper just wants to please and be everybody's friend. She loves to cuddle, play with her toys, go for long walks, car rides and play with her older brother and her best friend Tucker. Harper lives with her guardian mom, Stephani, and her older brother Winston who is a mini schnauzer. Stephani and Jeanette worked together for many years with the Clark County School district and she is thrilled to have her friend be Harper's mom.
Weight 60 pounds
Lily
Irish Golden Retreiver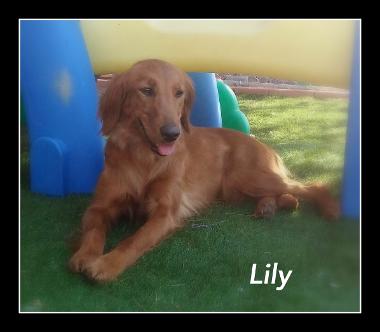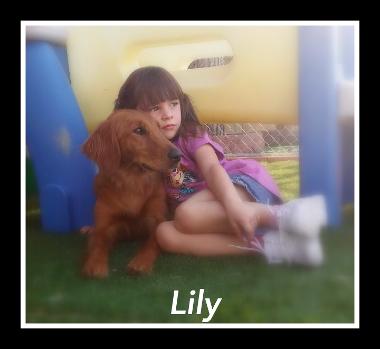 Lily is a beautiful Irish Golden Retriever that comes from Liberty Kennels. Her breeder is doing her best to bring the golden retrievers back to their healthier roots by adding Irish Setter into the bloodlines (less cancer). Lily is 75% golden retriever and 25% Irish setter. Lily came to us at 2 years old from The National Institute for Diabetic Alert Dogs. She was a "beauty school drop out", but boy did we luck out. What Lily lacks in confidence, she makes up in her silly antics! She loves to play fetch and is very fast! You can definitely see the Irish Setter in her! Lily also like sot follow the rules and just wants to make us happy. Lily has had one litter for 4E Kennels and she produced an outstanding litter of Standard Irish Goldendoodles.
Weight: 55 pounds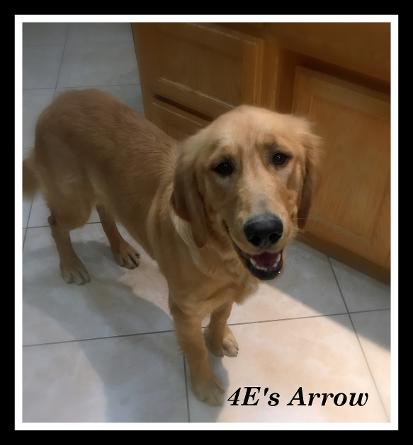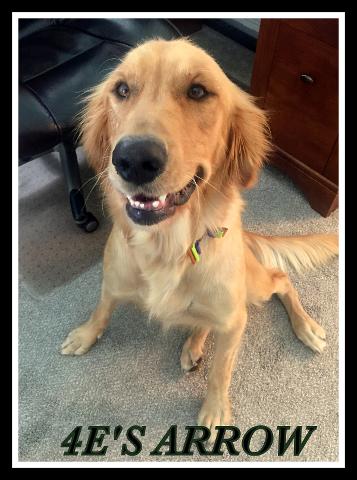 4E's Arrow is a gentle giant. She is a big girl weighing in at 80 pounds. She is long legged and big hearted. Arrow lives with 4E's Haddie and the Haider family. She loves to spend time in their pool and will play ball whenever anyone is willing. Arrow is attached at the hip to her guardian mom and just wants to be with her. Arrow is laid back, eager to please, complaint and just a sweetheart. Arrow has produced one litter for 4E Kennels. She was an attentive gentle mom that enjoyed her time with her puppies.
Weight: 80 pounds
Audrey
AKC Golden Retreiver
Audrey is one of 3 sisters I got from the same litter. These bloodlines are top notch and come from Australian lines. Audrey lives full time with my daughter Bria and is a part of our 4E Kennels Therapy Dog team (trained and handled by Bria). Audrey does the sweetest little high pitch whine/whistle when she is excited and is getting loved on by those she particularly loves. She loves attention from all and a belly rub is one of her favorites. Audrey loves the water and loves to play fetch. She is sweet, submissive, has a high desire to please and is such a great dog! Audrey has given us our largest litter ever - 15! She has produced countless service and therapy dogs.
Weight: 63 pounds (short and stocky)
Adeline
AKC Golden Retreiver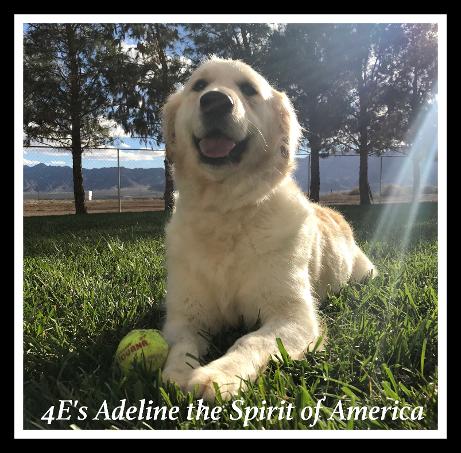 Adeline is one of 3 sisters I got from the same litter. These bloodlines are top notch and come from Australian lines. Adeline tends to melt a lot of peoples hearts when they meet her. She approaches so gentle and will just lay in your lap and melt into your heart. She is tender hearted, will do anything asked of her and wants nothing more than to be right at your side. She is so composed and well behaved, anyone can work with her. She never challenges even the smallest child. She loves the water, playing fetch and is such a pleasure to work with. She has given us two litters full of gentle natured, highly trainable pups. Several are working as service and therapy dogs. One female pup went to Lily Grace Service Dogs and was given the report card of "one of the best noses I have ever worked with". We are so proud of these bloodlines and what these girls offer to us and others. Life changers for sure!
Weight: 60 pounds (short and stocky)
Amelia
AKC Golden Retreiver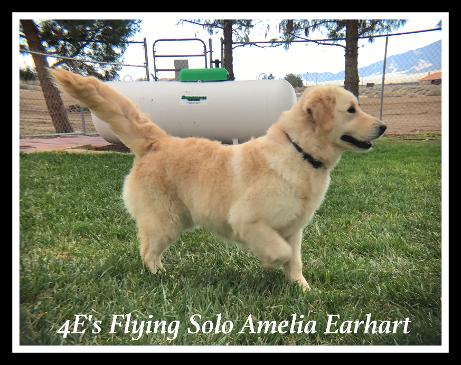 Amelia is one of 3 sisters I got from the same litter. These bloodlines are top notch and come from Australian lines. Amelia is nicely balanced in her drives, loves to please and has the sweetest big brown eyes. She is gentle hearted like her sisters, loves the water and LOVES her ball. She is athletic, the fastest of the three girls and will also do ANYTHING we ask of her without complaint. Her temperament and reliability is solid ( I can't get any better - as are her sisters). Amelia has had 3 litters for us, a pile of service dogs, Instagram Sensation (@noodlethe doodle) and several therapy dogs. I kept a female (Diana) from her last litter for our breeding program as well as our therapy dog program. Diana is incredibility intelligent, has fantastic focus, easy to train and such a nice pup. We love her. We are so blessed to have these sisters in our program.
Weight 60 pounds (short and stocky)
Cybil
AKC Golden Retreiver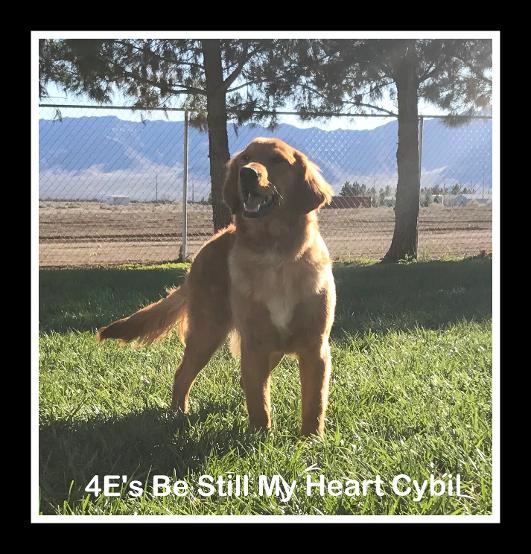 Cybil has had one litter with us, the "Foxy" litter. It was a smashing success. One of her pups, Esther, is Las Vegas Faith Lutheran's School Facility dog. Her puppies are bright, eager, trainable and sweet. Cybil is a beautiful retriever who loves to swim, play fetch and be by our side. When she went to the vet after her litter went home for a complete follow up post puppy care visit, one of the vet techs, Chelsea, fell in love with her. So, Cybil now lives with a guardian family and 1 year old sister! She had never been around a baby before and she instantly LOVED her little human. The two of them are inseparable now. The family loves taking Cybil camping, hiking, boating and of course movies on the couch.
Weight: 50 pounds
Gypsy
F1 Standard Goldendoodle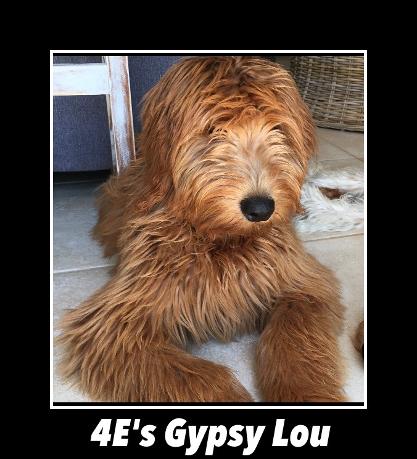 Gypsy is one of our pups, from Eloise and Riley's Equine litter. She lives in a guardian home full time! Gypsy is tender hearted, but not too needy. She likes to be close by but doesn't need to be on your lap! Lol! Gypsy loves to stir up mischief (just like her mama). She loves carrying things around in her mouth and loves to play with her big brother (a Hannah and Riley pup). Gypsy is smart as a whip, loves to be on the go and seeks adventure.
Weight: 55 pounds