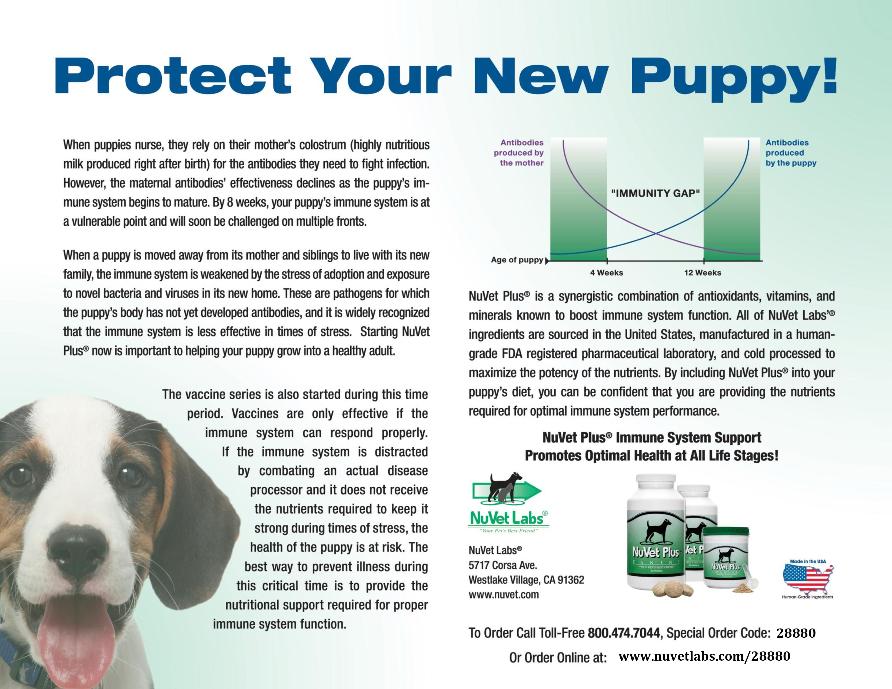 At 4E Kennels, we strive to provide our working dogs, breeding dogs and puppies the best nutrition. I have been using salmon oil and sea meal for years, but have been integrating NuVet for sometime now and I am very pleased with the results. It is the only FDA approved vitamins/supplements for our dogs and cats. All of our dogs are on this daily supplement and once puppies begin eating food, it is blended into their food every day. I strongly suggest continuing your puppy on this daily wafer! I sure have noticed many health benefits from Nuvet in my adult dogs and in my pups! While I have been using this for sometime, I wanted to ensure that I believed in it before recommending it. All of my puppy buyers can buy this vitamin with a special 4E Kennels code. You can order online or via the phone (not available in stores or Amazon).
Help Heal and Protect
your Pet – for life!
NuVet Plus can help heal and protect against the ravages of
free radicals that attack your pet throughout its life.
Ø NuVet Plus can help prolong the life of your dog and cat
Ø And can help eliminate most ailments
Ø GUARANTEED!
* Allergies
* Skin and Coat Problems
* Scratching, Itching, Biting
* Hot Spots
* Arthritis and Joint Problems
* Premature Aging
* Low Energy Levels
* Diabetes and Liver Problems
* Cataracts and Tumors
* Digestive Problems
* Tearing
* Heart Disease
GUARANTEED – No sugars or fillers

GUARANTEED – We use real chicken liver – not cooked, but instead it's paddle dried by our patented process to preserve its Omega Fatty Acids

GUARANTEED – not heat treated (heat destroys vitamins A, E & B1) – it's why NuVet Plus wafers crumble easily

GUARANTEED – So pure it's produced in an FDA (human-grade) manufacturing facility (virtually unheard of in the pet industry because of the high cost / monitoring required)

Our team of Veterinarians, Physicians, Pharmacists, and Nutritional Scientists took eight years to develop this revolutionary product

On the market for over 13 years/ We're one of the oldest US pet supplement companies

MONEY BACK GUARANTEE – If this isn't the most incredible pet supplement you've ever had, we'll give your money back!