Dear Jeanette at 4e Kennels,

My husband and I want to thank you and your family so much for all your hard work and
dedication that all of the beautiful little puppies and their mom's have been given, specialty our little Tonto.

Since, February 21, 2013 when some of the puppies came into this world, you have given all of us day by day video, photos and communication on all 27 puppies, you made us feel like we were there at your home and part of their lives from day one, watching them grow, testing them for specific things, if they like water, use their noses, bark. You kept mom's and puppies healthy, safe and happy.


Your expertize, passion, compassion and knowledge as a breeder is impeccable. Our Golden Doodle Tonto 'Friend of Kemosabe' is a well adjusted puppy, very social and has a wonderful demeanor, we are so happy and love him so much.


In the old days you would get a puppy in front of the Grocery Store.


In closing, we would love to thank you for always keeping the door of communication open, for being honest and up front, for all of the kindness and support, time and love that you have shown and put in for the care of these puppy and most of all for your lovely family who has also made this such a fun rewarding experience.

Sincerely with warm regards,

Perry and Pamela Barlow
"Here's violet at our 3 year olds b-day party. She is so loved by our kids they just had to include her in the party! Violet is currently recovering from getting spayed and is doing great! She is my little shadow that follows me around the house and is constantly wanting to play fetch with her tennis ball. She has been the perfect dog for our family, especially for our kids, she is so good about letting them give her LOTS of hugs and kisses( something she learned from the start with Jenna no doubt). We love her so much and are so excited for the happiness she will always bring our family. Thanks so much to 4E Kennels!
Best wishes
Katie Murray & Family"
Benny is the biggest hit in Beverly Hills. I can't go 10 feet without someone stopping me to pet him! I've heard, 'That's the cutest dog I've ever seen in my life' several times, and true to LA, 'You should put that dog in the movies!' At first people are blown away by how cute he is, but then they notice his calm demeanor and how he sits and lies down on command - with the help of a little treat :) I feel blessed to have such a well-breed dog who came to me already socialized and loved. I feel like I can only mess this up by not following what I'm learning from the books you've recommended. I'm taking him all over the place and introducing him to new experiences all the time and he is just amazing. Thank you so much!
-Jeneva
I cannot express how impressed we are with Jeanette and 4E Kennels! We lost our Goldendoodle last year and were not really looking for a new pup yet. A friend mentioned 4E Kennels and we thought we would "just look" at the new puppies. Well, once we met Jeanette and her family and saw the amazing conditions her puppies were being raised in, (there were 27 at the time!) we had to have one! Jeanette treats each puppy as her own, grooming them to be amazing dogs and companions. We were amazed at the time she took with each puppy and how amazingly clean her home was! The puppies were definately treated like family, raised in a loving, safe environment. Even with 27 puppies, Jeanette could tell you each ones quirks and personalities. She worked tirelessly to make sure each puppy was socialized and that they were placed in the home best suited to their individiual temperaments. She provided weekly updates and nightly puppy massages that not only made the puppies feel secure, but helped us attach even more to our new babies until we could pick them up. We are grateful for the gift she has given our family. A beautiful, happy, loving puppy that has already built a special place in our hearts and family.
Debra LeVanWay
Dear Jeanette,
Let me start by saying that I don't write many testimonials. I am a set back and wait kind of girl. With this being said our family would like to thank not only you but your entire family for introducing us to all your dogs and Golden doodles. We have always had a rescue or re-homed dog. But with Frank being diagnosed with dog allergies we set out to look for a hyper allergenic dog. We have never picked out a puppy let alone gone through a breeder so we did not know what to expect.
You and your entire family put so much into each and every dog and puppy. I can't express how wonderful it feels to know that for the first 8 weeks all the puppies are well cared for, worked with and best of all loved and kissed. From the very start of our journey and still today you are there to help answer questions and provide great suggestions with our Tank (Duke). We truly feel that in a way you and your family are a part of our family. When we tell people about our first class breeder they can't believe everything that you are willing to continue to be a part of our Tank's life. Tank (Duke) has been a perfect match for our family.
We are also so extremely thankful that you have in trusted our family to be Miss. Emma's guardian family. She is such a ray of sunshine and the angel this family needed. Emma has such a gentle loving spirit. She greats everyone with a hug, the boys say she is just like me because I am a hugger. We are head over heels in love with these wonderful four legged creatures.
Anyone looking for a wonderful tempered, well taken care of, loved and kissed puppy look no further you have found your breeder. You will definitely get more then you paid for. The continued advice and support is worth every penny!
Thank you to you and your entire family! And a big thank you to Miss. Jenna what a great asset she is to your business. We should all be so lucky to work with a Jenna!
All our love,
Frank, Valarie, Corbin, Frankie Jr., Brady and Bradley Walton
Don't forget Tank and Emma!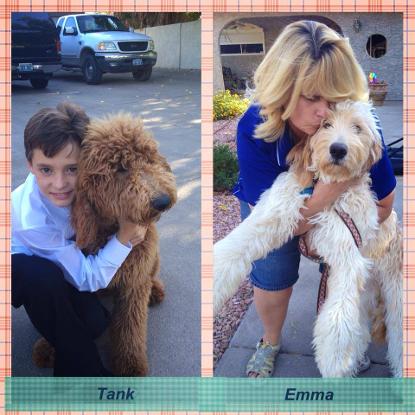 Hi Jeanette,
I just wanted to take a moment to thank you for all of your help during our adoption process for Buddy. I did extensive research on breeders and found you to be exceptional, far beyond any other breeder I have come across. Kyle and I had both lost our dogs (his golden retriever and my teacup poodle) and after some time, decided to get a goldendoodle together because it would be a hypoallergenic mixture of our two breeds. Adopting Buddy has been such an amazing experience. I'm not sure if anyone else would have put up with all of my texting and emailing. After all, it had been over 15 years since Kyle and I dealt with puppies, and I was super excited. I am truly thankful that you kept me us in the loop from even BEFORE Holly was pregnant. When adopting a puppy, it was a great feeling to be so involved in the process that I felt as if I had carried Buddy myself. From the moment Holly tied, to the movement of puppies in her tummy, to the birth of Buddy's siblings, and finally, the birth of Buddy (lucky #13; the baby of the litter). It didn't stop there either. You kept me updated on feedings, play time, funny moments, and everything else a future mom should know about her baby. THIS is what makes you a great breeder. You truly care about your puppies, and you also care about the future parents who are so patiently waiting. You were there to help choose the perfect puppy that matches our lifestyle while being perfectly honest about the personalities about each one. (To be honest, any one of your pups would do great). You give them the best start they can get from your Essential 7 and Biosensor exercises, not to mention plenty of socialization. Buddy is sooo smart. At 10 weeks, he knew how to sit, paw, down, up, speak, spin, and kiss. Only 10 weeks!!! Thank you for everything you have done for us, and for Buddy. You will definitely always have a place in Buddy's heart (even through videos, he jumps up when he hears pup-pup-pup). Thank you for all the daily/weekly photos and videos, text messages, and emails. THIS is a true adoption...I felt a part of it every step of the way. And most importantly, thank you for Buddy. He is a wonderful little boy, and he is already growing up to be such a smart, social, we'll - balanced happy dog.
Sincerely,
Jenny, Kyle, & Buddy
Dear Jeanette & 4E Kennels,
We cannot thank you enough for raising such wonderful puppies! Cooper (General Patton, Lacey's Patriotic Litter) was THE PERFECT FIT for our family, and worth flying from Colorado to Nevada to pick him up. We have searched high and low, as I have wanted a Goldendoodle for over a decade now. Our good friends, Jeff & Lisa Giffin from California, selected a puppy from 4E Kennel and have been so happy. So their referral held a lot of weight for us. We watched for a few months, and then placed our deposit in the spring of 2013. Jeanette was very patient with us as we decided between an F1 and an F1b. We eventually decided on an F1, and chose to wait for Lacey's fall litter. We could have easily chosen any single puppy from this dozen. We had the 8th pick, and still had so many perfect options for our family. We love him so much, that we have reserved a spot on Lacey's final litter this fall! We also are puppy raising one of 4E Kennel pups, Newton (Hannah's Influential Litter F1b), for the National Institute for Diabetic Alert Dogs. Newton will go on to become a DAD for someone with Type 1 Diabetes. These puppies are so well cared for, socialized from birth, exposed to a multitude of firsts to make them incredibly well rounded, and their temperaments are unmatched. Cooper and Newton were instant friends, only 5 months apart, and love to be in each other's company. Our 12 year old son adores Cooper (and Newton), and easily can walk Cooper on leash. Cooper is a true gentle giant! Thank you Jeanette and family for continuing to breed such top quality Goldendoodles, and for taking all your new doodle families into your hearts! We have been blessed by what you do.
Much love,
The Rust Family
Colorado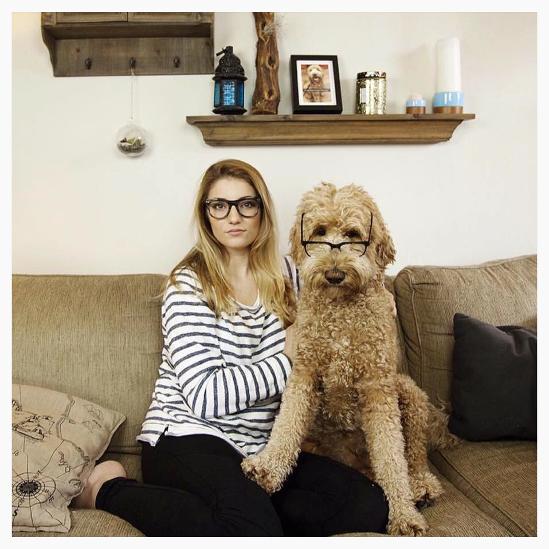 Love Claire with all my heart and soul. People stop and ask me questions about her all the time! If I had a nickel for every time I heard "Wow! what a great looking dog!"... Claire and I would both be rich! I have developed a script at this point because we get asked about Claire ALL THE TIME. I always point out to people interested in a puppy that they should chose 4E Kennels because they don't just breed dogs for looks and profit like most other breeders, especially the ones now popping up all over California. 4E Kennels breeds diabetic alert dogs, therapy and service dogs! So while making cute puppies is apart of the job, making sure they are intelligent, social, and have amazing dispositions is Jeanette's' top priority. Jeanette is dedicated to improving the lives of other people with her very special pups. She is resolute in making sure these puppies have an enriched environment with lots of play, exposure and love so they can go on to become the smartest puppies; ready to help and love their future humans! I remember receiving videos from Jeanette directly prior to picking up Claire, and she was either introducing the puppies to swimming in a kiddie pool, or having their first interaction with an umbrella... Just always above and beyond my expectations of what a breeder is. I don't even think it's fair to cal Jeanette a "breeder". She is more of a doggie angel. Now that I have Claire I know that her start at 4E Kennels helped shape her into the confident, cuddly city pup she is today!
Lauren Manar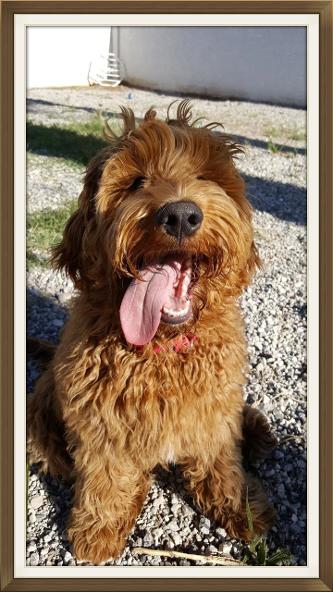 Words cannot express the absolute admiration I have for Jeanette and 4E Kennels. My husband and I welcomed a new doodle from 4E Kennels into our family in January 2016. We did a lot of research to find the right breeder and as soon as we met Jeanette we knew immediately she was the one. She has such love for her work and all of her dogs. She is incredibly knowledgeable, thoughtful and caring. And, her program to help with the growth and development of the puppies is spectacular. This not only helps each puppy for the rest of their lives but it also ensures when you take home your new puppy that you will be off to an amazing start. Our doodle is an absolute joy, he is so smart and has the most wonderful personality. We will always be grateful to Jeanette for helping bring him into our lives. If you are looking for a doodle to welcome into your family, look no further. 4E Kennels is the best.
-Sarah Falk Oetting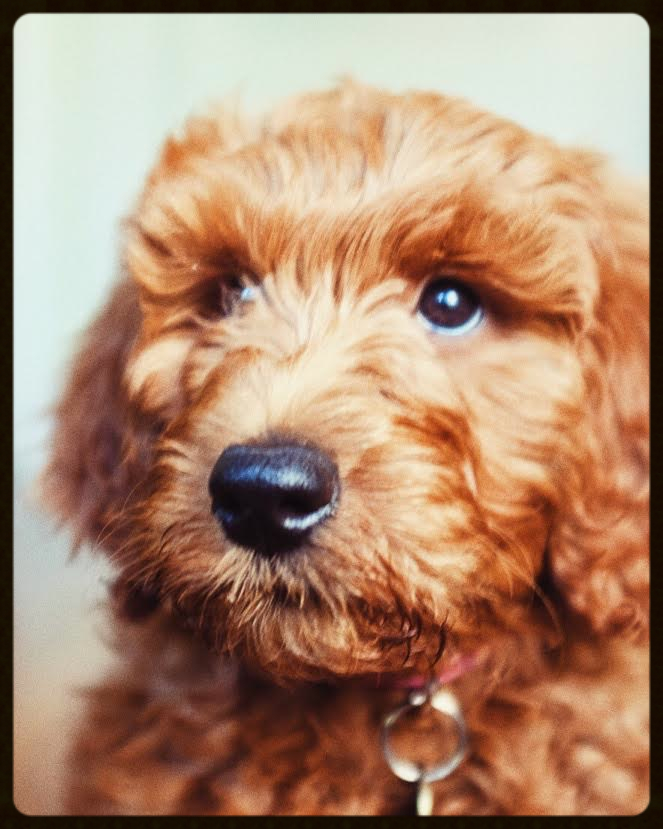 "I cannot find the words to describe how grateful we are for Jeanette. The love, care, and attention she provides to all of her pups were apparent from the first conversation we had with her. It was evident from the very beginning of the adoption process that Jeanette's heart and soul are deeply invested in all of her puppies. We did extensive research on breeders and found 4E Kennels to be far beyond any other breeder we come across. We were especially impressed when we took our puppy to her first vet appointment and the veterinarian told us that in the entire span of her career, she had never been as impressed with any breeder's paperwork as much as she was with 4E Kennels — the vet told us that due to our pup's great state of health and exceptional temperament, she could tell right away that our Pickles had been loved and well cared for. We are forever thankful to Jeanette, who works tirelessly to make sure each of her puppies is socialized and very loved. Thank you Jeanette!"
Ibeth Navarro
Dear Jeanette,
Never before have I felt compelled to write a testimony. With the love, care, and energy I've seen you put into your puppies, I knew I had to. I've always believed people are brought into our lives at the right time. We had been interested in getting a puppy, and after meeting you and twenty seven of your puppies, we knew that day that we had found our breeder! We immediately trusted you and put a deposit down on a future litter. Little did I know at the time, but I also signed onto endless support and a plethora of knowledge as you helped guide me through what I didn't know about raising a puppy. I was also gaining a 4E Kennels 4Ever Goldendoole family, which gives me the opportunity to keep in touch with Lucy's littermates, share puppy raising strategies, and watch other Goldendoodles grow up. Before bringing Lucy home, we loved being updated on Holly's pregnancy, weekly puppy photos and videos, and the opportunity to visit and play with the puppies as needed. I am fascinated by the tender nurturing you provide to each and every one of your puppies, from the biosensor exercises, to the Essential 7, to exposing them to all sorts of people, animals, and situations. All of these early experiences help to mold your puppies into well-rounded, well-adjusted, and stable dogs. Along with all of this critical early care you provide, we also appreciate your placement skills in helping us to find the right puppy for our family. You have this incredible gift of knowing which puppy will best suite each family. Even though Lucy picked me, I know you would have picked her for us too. With her spunk, energy, silliness, sweetness, and intelligence, we couldn't love her more! She's tolerant, loves everyone she meets, and makes us laugh on a daily basis. Best of all, she loves her older Doodle brother and provides him with the companionship he needs when we are not at home. Lucy is now nine months old, and I've held off on writing a testimony. There are no words to express the adoration I have for her or the appreciation I feel for you and 4E Kennels. Thank you for your love, support, guidance, and friendship. You are truly amazing at what you do!
Love, Heather and Matthew Oney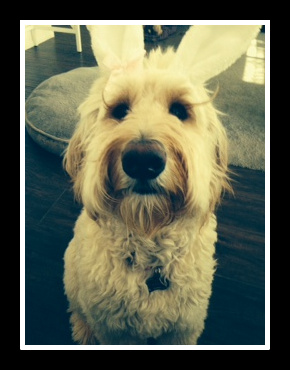 I wanted to write and thank you for all of your help and support throughout the adoption process. We are so lucky to have found such an incredible breeder. Adopting Bailey has been a memorable and amazing experience for our family. We appreciate all the time you took answering our questions & providing us with great advice throughout the entire process. We loved visiting the puppies & getting to know their personalities. It was very obvious to us that you put a tremendous amount of time and work into caring for your puppies. You made sure that our family was a good match for our puppy and we can't thank you enough for your input. Bailey makes us laugh everyday- she gives us lots of kisses & we give her lots of belly rubs. I will continue to recommend you to anyone I know who is considering getting a puppy. Thank you Jeanette!
Sincerely,
The Armstrongs
If you're looking for the perfect golden doodle to bring into your home, then look no further than 4E
Kennels!
My Baileigh is now nine months old and a very sweet little pup. Her temperament is so calm and her intelligence continues to grow each day. She is picking up commands faster than any dog I have ever owned. I know that it because of her early days with Jeanette that I have such a smart, calm, mature nine month old doodle. 4E Kennels is not just a business and Jeanette's puppies are not just puppies, 4E is a labor of love and these puppies truly become Jeanette's babies.
When I called Jeanette, I let her know that I was looking for a doodle with a calm, cuddly, and loyal personality. She eagerly explained all the personalities of the remaining puppies and suggested one that she thought would be my perfect match! Once I met Baileigh, I knew there was no way I could have picked a better golden doodle for myself.
Upon meeting Baileigh, Jeanette, and the entire 4E family, Jeanette let me know that when Baileigh was born, she was born blue and not breathing. If it had not been for Jeanette's quick action of mouth to mouth and her watchful eye over my pup for the next twelve hours I don't think that I would have my sweet cuddle bug today. Jeanette's love and devotion to not only Baileigh, but all the puppies born at 4E Kennels is a true testament to the quality of care these dogs receive before leaving to their forever homes.
-Megan Patino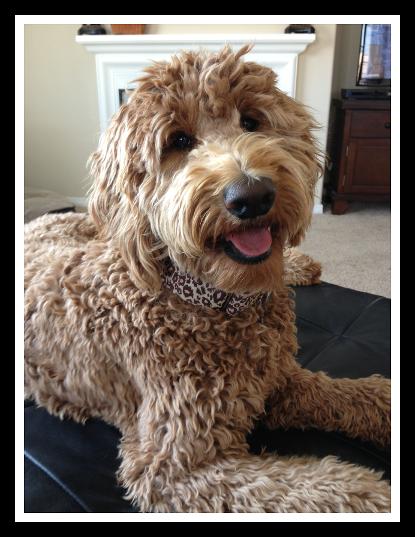 I feel so fortunate to have found 4E Kennels in my search for an emotional support Goldendoodle. I was definitely skeptical about getting a dog from a breeder and was giving up hope. I had evaluated several other breeders, but was uncomfortable with what I was seeing. It seemed like other breeders were definitely in it for the money. I immediately could tell by their website that 4e kennels was so different! It appeared that Jeanette authentically cared not only for her dogs and puppies, but also for her clients as well. The first email I sent to Jeanette was simply that I was looking for a support dog. She quickly responded and was so open and supportive, I felt blessed to have met her. She helped me find the perfect puppy for my personality and has Claire been such a life changer. 4e kennels has been there, not only with pre-puppy questions, but even any training questions I have are answered by Jeanette or the 4e kennels family. I feel fully supported and would gladly recommend 4e kennels to anyone looking for a healthy, loyal and loving dog that also comes with an awesome 4e kennels family.
Love Lauren, Eric and Claire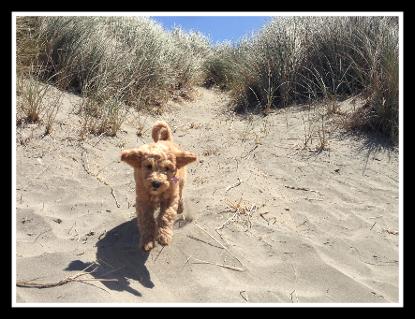 I can't speak highly enough of Jeanette & 4E Kennels. She goes above and beyond what many breeders do, she assists you in finding the right puppy for your lifestyle based on family members, needs and desires in a dog. We were "late to the party" in finding 4E Kennels as most of the puppies were already home. Stella literally walked right into my lap the first time we met her. All the dogs are playful and well mannered - I can't even believe how early she starts potty training them! Stella had less than 10 accidents before she was fully potty trained – how many people can say that? We are blessed to have an amazing dog in our life, and everyday thankful for all the work, love and devotion Jeanette puts in to 4E Kennels.
~Kara Kenny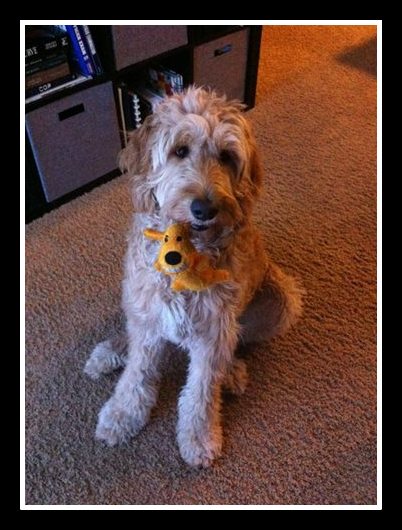 4E Kennels is committed to raising quality Goldendoodles! We got Honey at 8 weeks and Jeanette was spot on with her personality making our Doodle a perfect match for our home. Honey has been healthy and growing like a wild fire! We are so happy with our Doodle that we are on the reservation list for a second.Thanks 4E Kennels for adopting Honey into our family!
-Clifton Lambert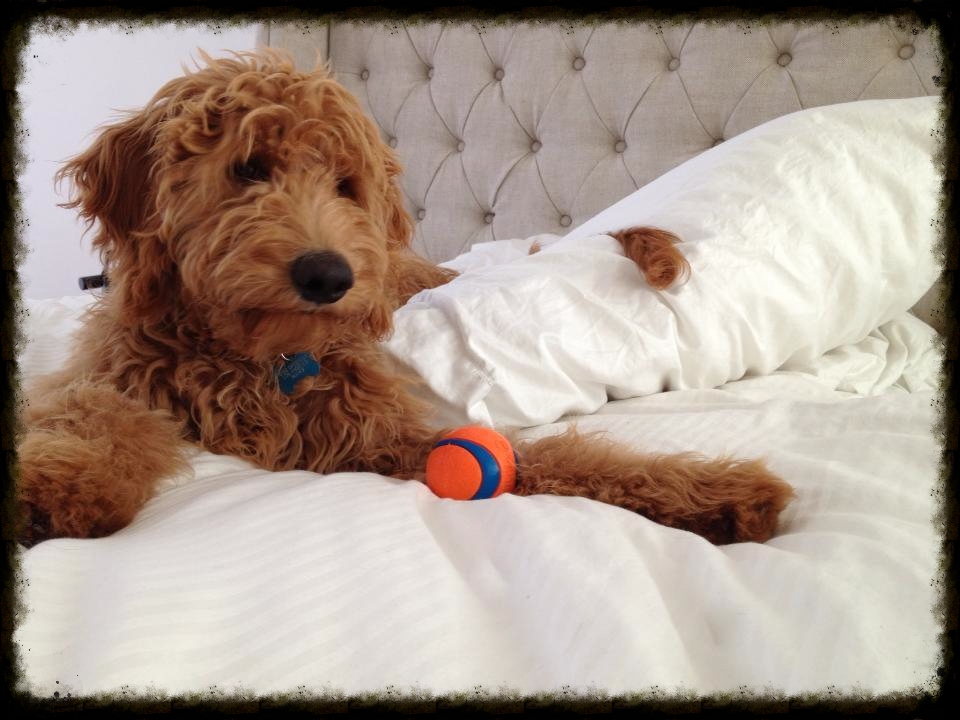 Kaiya has been such a blessing to our family. We wanted the best of both worlds with little shedding and lots of love and boy have we gotten it! She is wonderful with my two toddler boys and little Pomeranian. While she LOVES playing with all of them, she is always extremely gentle. Plays with her mouth open, but never closes it on anyone. We decided to get our golden doodle at a very hectic time in our lives. We have been expecting our third child, moving and traveling all in her first 9 months, but she has taken it all in stride. I love how good she is for me when I groom her too. Sometimes she even falls asleep!!!
I can definitely attest to the fact that 4eKennels has been far superior to other breeders we've seen or used in the past. It was so special watching the litter grow up and having pictures of our girl from 1 week old on! When I brought her home she was already potty/kennel trained!!! Jeanette is always there as well as other local doodle owners to help me with any questions I have ever had!
Jennifer Speer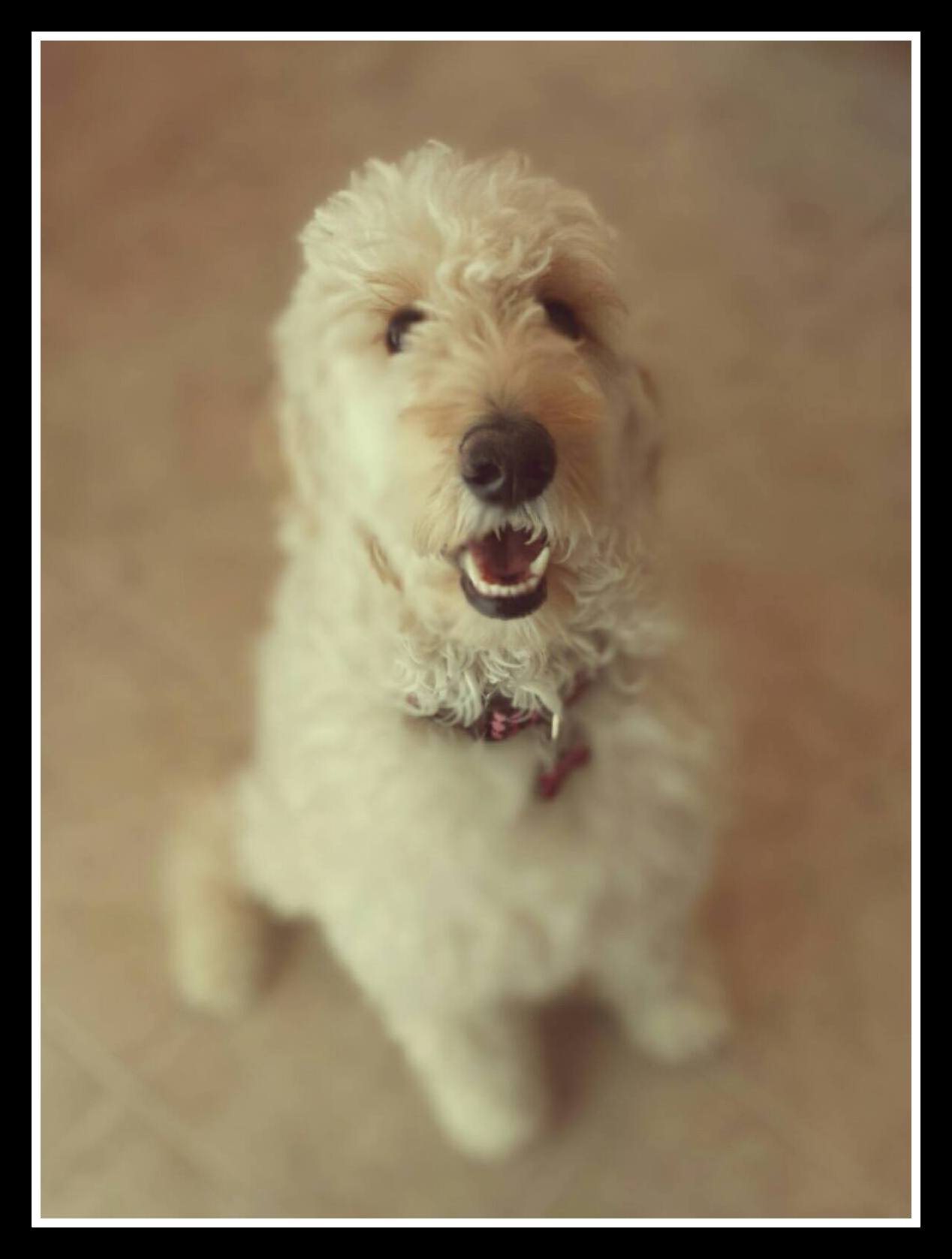 FFF For those miles away from Las Vegas,
I am the type of person that does a lot of research before purchasing anything. When I saw my first goldendoodle, I saw a picture of one off of google. The perfect, "teddy bear" looking, cutest little goldendoodle I have ever seen. So cute that it probably was a stuffed animal dog. Immediately I started researching goldendoodle breeders. Day after day I would find a breeder, look at their pictures, and was always unhappy with what I saw and the lack of information I was given (on the webpage or phone). Then I found Jeanette at 4eKennels. I just love how much information Jeanette puts on her website. She described every single detail from how to purchase one of these darling puppies, to the type of coat you are looking for, to describing the mother and father of each litter, and so much more. I was so impressed by her ability to know exactly what I wanted. I say this, because, I told her the type of dog I was looking for, and she added me to the litter waiting list I needed to make my dream dog come true. She added me to the list for Lainey and Romeos litter. I remember the night Lainey had her 10 puppies! 7 males, 3 females. She instantly emailed the group on the waiting list, letting us know Lainey and the babies were healthy and happy. From that day on, I would receive at least one email a week updating me on the litter. This is when I should tell you why I said "for those miles away." I live in Bentonville, Arkansas! My ability to go and visit these puppies while they were with Jeanette and Lainey was, well, expensive! So, Jeanette sent me, and the rest of the waiting list, a weekly video showing the puppies playing and taking different types of test, like obstacle courses. She sent me information on each dog and their personalities, energy levels, confidence, pack drive, and so much more. Since I was not able to ever see the puppies in person, Jeanette made me have the ability to see the pups which helped the choosing process so much easier. My finance and I now have Messi, which is the most well behaved, loving, wavy hair, cutest puppy alive! Thanks to Jeanette I got exactly what I wanted. I can't thank her enough. Every time I walk Messi I can't get but two steps and another person is petting Messi and asking where I got him. I say it loud and proud, 4eKennels! Best breeder in the world!
Happy as can be,
Abbey Sharpe
We are so thankful to have found Jeanette and 4E Kennels 2 1/2 years ago. We just got our second doodle from 4E (Obsidian) now Jax from Holly and Watson's Gem litter. Just as our first doodle, he has been a great puppy. We know that Jeanette gives them the best start with both health and early training, this makes transitioning to your home very smooth. Jeanette acts as a matchmaker matching you with a dog that will fit you and your family. Jax has fit in perfectly and it has only been a few days, no surprise though, ALL 4E dogs are amazing.
Our first doodle, 2 years old (Juliard) now Posey (yes she is actually a SF Giants fan) from Hannah and Romeo's Ivy League litter is simply the best. She is so smart, loving, funny, friendly, easy going, athletic, playful, dog. She has become my shadow and is always by my side. She always makes me smile, and her intelligence amazes me everyday. We are working on our therapy dog test, which I absolutely believe will be so fitting for her. She loves everyone, and usually ends up making friends wherever we go. We are also on our 10th week of Agility training, she is doing wonderfully.
These dogs become who they are because of the hands-on hardwork and dedication that Jeanette, Jenna and their team do each and everyday. Thank you all, we couldn't be more happy with our two doods!
Doodle hugs from Jax, Posey and The Giffins
Visalia, CA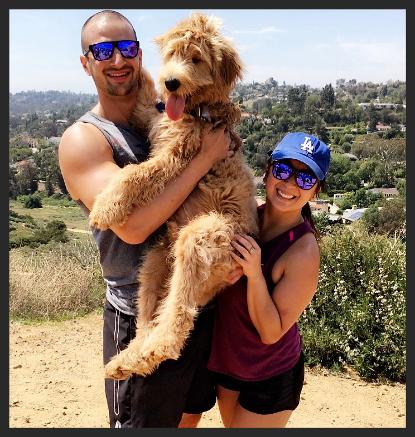 Hi everyone!
Last December we welcomed the newest member of our family, Noodle. It's hard to put into words how much Jeanette and 4eKennels have changed our lives for the better! My girlfriend Christine had wanted a goldendoodle for a few years. I was just learning about the breed last year, but quickly realized how great of a breed goldendoodles are. Last year, we were walking around the Spectrum Mall in Irvine, CA and ran into a gorgeous doodle. We could tell that this was a special pet that had great roots and temperament. The owners told us he was from 4eKennels in Pahrump, Nevada. They advised us that if we were to get one, we MUST go see Jeanette in Nevada and get one from 4e.
We were pleasantly surprised to see that the 4e website had plenty of amazing content. I loved the way that the website was organized, with plenty of information on reservation lists, future breeding couples, and "what your puppy might look like" sections. There was also a Facebook page which provided live updates on the various litters, which was a cool and unique bonus.
Once we committed to our decision, we contacted Jeanette who had A+ service before, during, and after our visits to 4e. Her communication and service was impeccable; she could be a superstar in any industry she chose! Jeanette provided accurate and specific information for every question we had on the breed and litter. During the pregnancy of Noodle's mother, Amelia, Jeanette and her team provided constant picture/video updates of the puppies which was great and helpful. If we had a specific special request to see how much each dog weighed, Jeanette was happy and quick to provide. 4e made us feel like the puppies were a part of our lives already, even though we were hundreds of miles away!
I want to say a little bit about the 4e facility itself. The doodle ranch just blew us away in size and quality. There are three facilities: nursery, adult housing for poodle males, and adult housing for golden retriever females. The impressive ranch also has plenty of romping area so that each dog lives the dream on a big fun yard with plenty of stimulation. Each adult kennel facility had an individual section that was clean and insulated for hot/cold weather. The nursery had separate sections for each group of litters. This made our visit to the nursery fun and easy, even with lots of future doodle parents coming to visit all at once. Also, the selection process was quick and easy, as Jeanette plans the meetings extremely well in terms of time and organization.
There are so many good things to say about the company itself and services they provide. Their donations to service dog organizations are wonderful, kind, and admirable. We were happy to know that some of Noodle's litter mates are now serving as diabetic alert dogs, and other 4e pups are now helping Veterans.
Christine and I can't say enough about the quality of the puppies 4e provides. Christine has grown up with dogs her entire life, and Noodle is far beyond the most behaved, smart, and darn cute pup she has ever had. Noodle received training under 4e's advanced service dog curriculum and his temperament "out of the box" was unbelievable. We feel extremely grateful to be a part of Amelia's first litter. The conditioning and temperament that Jeanette provided the puppies the first 8 weeks is so invaluable. We were astonished to see how well behaved and healthy our puppy was from the get go.
I never thought I could love a dog so much. Now that he is part of our family, I don't even see him as a dog but more as our little baby. We look forward to waking up with him by our side, smiling and waiting for us to play with him. Or when we come home from work and he's been napping all day, just seeing his cute little face looking up at us is a joy that can't be put into words.
All in all, this breeder is the best around and an absolute slam dunk if you're thinking of getting a doodle. We are thankful to have gotten to work with this company and be a part of the 4e Family!
Love,
Dean and Christine