Breeder - Jeanette Forrey
AKC Canine Good Citizen Evaluator
IACP Member
Author of "The Ultimate Badass Breeder's Guide" (www.badassbreeder.com)
Empowered Breeder
Creator of the first fully inclusive software for breeders to raise puppies to a high
standard and track all data and lines (www.empoweredbreeder.com)
Teaches and Mentors other breeders all over the world (online classes and seminars)
Founder of the B.A.B (Badass Breeder) Puppy Evaluation (Nationally Recognized)
Founder of the B.A.B Advanced Service Dog Curriculum
Founder of 4E's Therapy Dog Team
Runs 4E Kennels with honesty and integrity
Believes in the power of the dog and the ability they have to change lives
Believes in giving puppies a voice by honoring and respecting them
Welcome to the New Standard!
Jeanette is an empowered breeder and is paving the way for higher standards for Goldendoodle breeding by uniting breeders and providing them with the support education and necessary tools to elevate and showcase their program.
Founded 4E Kennels in 2011
I have my BA in English Education, my masters in Curriculum and Instruction and taught for the Clark County School District for 12 years. Children and dogs are not that different. I have loved learning how puppies develop, creating and implementing strategies to promote service dog quality puppies and creating curriculum based on those sensitive developmental needs.
_____
A few years ago, Getzy came into my life and he changed the way I view dogs. His intelligence and spirit inspired me to have Getzy complete the Delta Society Pet Partner training so he and I would be able to visit those in need. Getzy has accompanied me into the classroom and helped me single handedly pilot a "Reading With Dogs" program in my 8th grade classroom. It was a highlight of my 12 year teaching career! I found that there is a great need to breed and provide puppies that have been developed with the best care, socialization, health and love. I researched dog breeds extensively, trying to find the "best" all around dog. I felt the Goldendoodle met my standards with ease.
All my puppies are well-rounded, stable, reliable and full of love to share. Our dogs and puppies are raised in a state of the art nursery outfitted with cameras, individual whelping stalls and a full time staff. Creating top of the line Goldendoodles is our main focus. Our f1 Goldendoodle, f1 Mini Goldendoodle, f1b Goldendoodle, f1b Mini Goldendoodle pups learn early the importance of a positive human relationship. They are challenged and worked daily to create intelligent, balanced pups that display good nerve strength and that learn cause and effect, problem solving skills and a positive association to learning and training. Many of our puppies are scent imprinted to the diabetic low scent. We begin work on potty training (I know you like this one) and bring in volunteers to handle and socialize our puppies, increasing resiliency and socialization. All of our puppies are treated and raised as though they will become service dogs. Through selective lineage, we have specifically bred puppies to have the right temperament, intelligence and aptitude for service work. We have produced hundreds of service dogs, countless therapy dogs and now facility dogs Exposure is key to creating top of the line service dogs and all of our puppies follow our stringent guidelines. We are changing the face of dog breeding here at 4E Kennels. We are performing careful puppy evaluations to ensure you get the "type" of puppy you need and want by giving our puppies a voice in their placement. We believe wholeheartedly in the power of a dog and innate ability our dogs have to heal hearts and save lives. We hope that you will open your heart and home to one of our elite puppies.
4E Kennels is a network of clients nationally. We follow each others journey's via Facebook, as we shape our Goldendoodles as companions, service dogs, therapy dogs or facility dogs. We share, offer advice, laugh and cry together. We are a true 4E Kennels family. It takes a community to raise a great dog and we are doing just that - one dog at a time!
I can promise you, your puppy has had the best start here at 4E Kennels.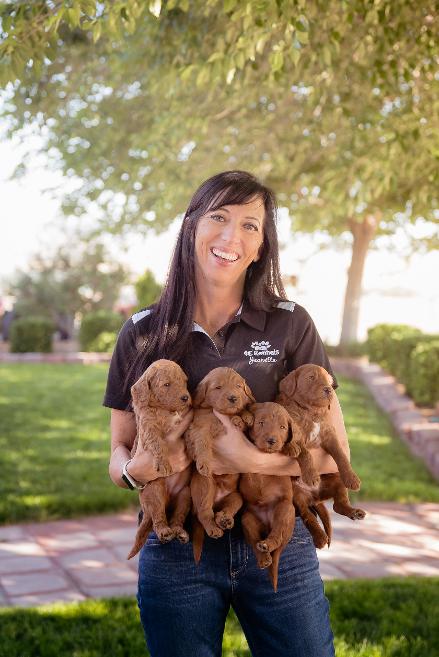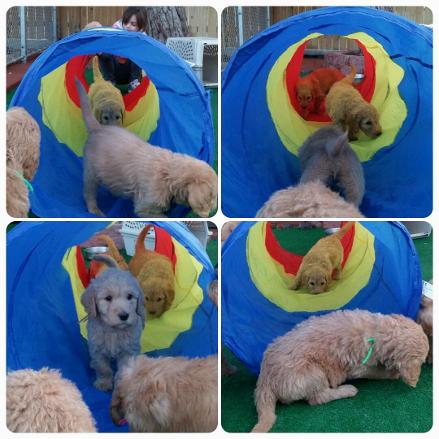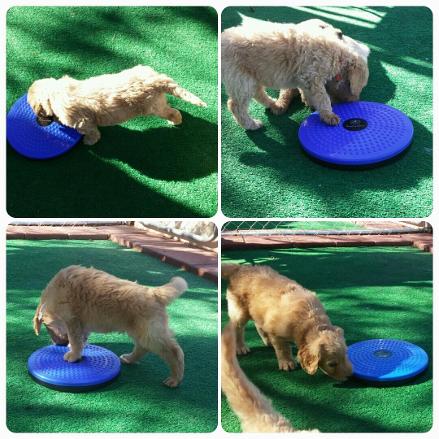 What We Do
1. Search for, train and test our sire and dams to ensure you are getting nothing but the best in health, intelligence, temperament and bloodlines.
2. Raise Goldendoodle puppies that align with their sensitive developmental benchmarks, ensuring they are empowered and not enabled that all of our puppies know the world is safe, people are kind and dogs are friendly.
3. Starting at 3 weeks old, each day our pups under go a program I devised, based on handling needs. I call this our "Puppy Massage" program. This 10 step approach is taken to make sure that all puppies are exposed to various types of human touching, handling and sensation. New owners will be educated on this program (video and handout) so that they can continue at home with their puppy! This is especially important for children in the family to take part in as well.
4. We begin the vital role of socializing your new puppy. We carefully follow the developmental stages and introduce them to outside stimulus as they are ready. Behavior modification is used when needed. For example, if a puppy is afraid of a stroller when introduced, I will specifically work with a puppy until that fear is eliminated. We also provide mental and physical challenges daily- items that move, items to chew on, climb on and carry, along with tunnels, obstacle courses, scent work and confidence building activities. Play helps develop strength, agility, coordination and skills to function as an adult. Puppies also began using problem solving skills which is vital in producing intelligent dogs. Puppies that do not have these daily challenges become "poor learners" who are unable to handle frustration and are limited in their coping skills. According to Dr. Ed Bailey, this is when breeders have the "power to improve nerve conductivity in both speed and accuracy. Recovery time of the neural synapses is shortened as the chemical and electrical signals react faster and faster and the nerves can fire repeatedly quicker. The brain mass increases dramatically as nerve cell density increases." 4E Kennels works very hard to expose and "work" our puppies so that they can be adult dogs who have appropriate coping skills, high intelligence, the desire to work for humans and sound temperament.
5. We perform the Badass Breeder puppy aptitude test (devised and written by Jeanette) focsuing on 12 important puppy temperament traits to help make sure you get a puppy that fits you, your lifestyle and your needs as well as honoring who the puppy is.
6. We provide countless pictures and videos of the puppies during the first 8 weeks with us.
7. Provide a health guarantee - 2 year guarantee against fatal/severe genetic defects.
8. A puppy packet that includes all puppy documentation - including the puppy socialization chart.
9. Age appropriate vaccinations and deworming
10. A puppy blanket with mom's scent.
11. A toy.
12. Unlimited Breeder support as well as a "family".
13. Provide you with a puppy that will bring you unconditional love, play, humor, companionship, service and the most non-judgmental friend you will ever have (we all need one of those)!